Why and how to develop a "print" strategy in this omnichannel era?
82% of consumers more faith in printed messages when deciding to buy a product. Despite the development of digital media, consumers still tend to trust print catalogs more than their online equivalent. While digital contents focus on "immediacy", printed documents reassure the reader as they are tangible and lasting.
Often attractively designed, paper is also the most likely media to attract new customers. Harmony between the colors, textures, coating… Paper establishes a physical contact with the customer by calling on the 5 senses. Perceived as both "physical and sensorial", it makes it easier for them to remember your visual identity and your messages.
73% of consumers several channels to interact with your brand, with each channel having a specific use. The customer can discover an offer on a poster, research the product in a catalog and then buy through an eCommerce website. A complex customer journey in which the barriers between print and digital completely disappear.
Faced with these new consumer habits, businesses are adopting an "omnichannel" (digital, print, store…) approach putting the customer's demands at the heart of the customer journey. To manage print productions, they use assisted page layout solutions. These software solutions are used to create all types of print publications: product catalogs, price lists, leaflets, prospectus, PLV… from a unique product database.
So how do these software solutions help you to manage your print and digital channels as a whole? How does this support the development of your omnichannel strategy?
Why should your business also have a print strategy?
Connect with a wider audience
The chances of a brand being remembered is 70% higer when a message is read on paper rather than online. Print documents are more visually pleasing and allow you to get your message through to the customer. Easy to read and easy to transport, they support your digital strategy to reach a wider readership.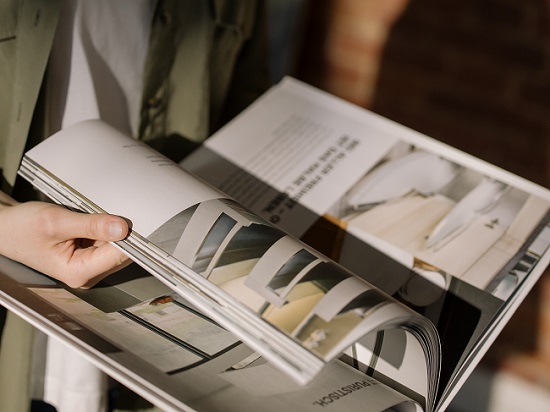 Customers appreciate print catalogs, but there are also many advantages for the company, among which is the variety of possibilities in terms of format: flyers, leaflets, brochures, catalogs, guide books… Print provides a wide range of advertising and sales support tools to assist you throughout your advertising campaigns.
Stand out from the competition
64% of consumers consider digital commercials to be "annoying" or "intrusive". With the rise in all things digital, consumers are assailed by the web: Pop-ups, autoplay commercials, push notifications… Whereas many businesses have abandoned paper to develop a fully digital strategy, ideally the two should be used together.
In developing a print strategy alongside your digital policy, you give consumers the time to fully appreciate your brand, its product range, and its messages. Print publications enable the consumer to easily hold onto your graphic creations and the messages about your brand. It makes them readily available as something they can refer to time and again.
Combining Print and Digital: what are the levers?
Whatever the stage in their customer journey (comparing, researching…), more than 70% of consumers use at least 3 different information channels while researching a product. While each channel has its own specific use, 71% of consumers want a consistent experience on each channel that they use, whether it is on or off-line.
Changes in purchasing habits have pushed businesses to combine the advantages of digital channels with those of print channels to create an "ongoing dialogue" with their customers.
Providing a consistent shopping experience requires that businesses manage their information and selling channels as a whole. Combined with a PIM, assisted page layout solutions make it possible to easily produce print documents (product catalogs, brochures, flyers, leaflets, price lists...) using accurate and consistent production information.
Arsia Product Data Publishing: produce top-quality print catalogs expediently
Arsia Product Data Publishing is an assisted page layout solution based on Adobe InDesign Server©. With its simple and ergonomic interface, you can easily create all types of print publications: product catalogs, flyers, price lists, brochures, leaflets…
Arsia Product Data Publishing is equipped with connectors enabling you to access all the information contained in your product database to generate, automatically or semi-automatically, top-quality print catalogs.
PIM, MDM, CMS or eCommerce sites… Whatever platform you're using, Arsia Product Data Publishing's connectors can interact with numerous product information management systems: the Riversand PIM solution, Akeneo PIM or eCommerce platforms such as Magento or PrestaShop .
Arsia Product Data Publishing synchronizes all the information from your product database in real time. Whatever actions you perform through your software: change a price, update stocks, add information… your changes are transposed directly into your InDesign document. Arsia Product Data Publishing ensures the consistency and accuracy of your product information on digital channels (CMS, websites…) as well as in your print documents (catalogs, brochures, leaflets, flyers…).
Seamlessly customize top-quality page layouts
Based on Adobe InDesign Server©, Arsia Product Data Publishing generates top-quality documents. Once your InDesign document has been generated, you can easily modify any element of your pages: resize and crop images, choose the placing of text blocks, add texts and images… You can design your document through a simple and intuitive interface for professional results.
Arsia Product Data Publishing enables your team members to work collaboratively on your print productions by facilitating the interactions between all concerned. A comments system allows each contributor to submit their ideas, comments, recommendations… A powerful workflow engine allows you to monitor each stage of the production of your InDesign document.